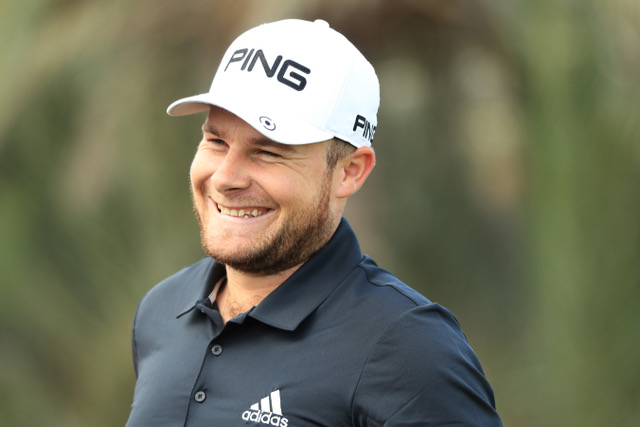 With big wins in America and Europe this season, 29-year-old Tyrrell Hatton has broken into the world's top 10 and is setting his sights on staying there, as Nick Bayly found out
It's fair to say that 2020 has been a career-changing year for you, with your first PGA Tour victory at the Arnold Palmer Invitational in March, and a cherished win at the BMW PGA Championship at Wentworth in October. It's obviously been a strange year, but you must be pleased with the way things have gone so far?
There's no doubt that 2020 has been a special year for me as far as my golf is concerned. It was great to win my first PGA Tour event at Bay Hill, which is such an iconic venue. It's a big milestone in any player's career to win on the PGA Tour, especially as a non-American. I've been fortunate now to win five times in Europe, but to get the breakthrough in the States, in what was my fourth season playing in America, was really pleasing. Hopefully I can take that confidence with me and add some more trophies in the future.
And winning the PGA at Wentworth was a dream come true. It's well known that it's a tournament that I attended and watched as a kid with my dad, and dreamt of winning, so all these years later to come back as a player and win it, was amazing. There are the names of a lot of fantastic players on that trophy, so it was a huge honour to add my name to it. The tournament's got such an amazing history, and to be a part of that now is extremely special.
Am I right in thinking that you didn't know you had a three-shot lead when you stood on the 18th tee during the final round at Wentworth?
Yeah, I wasn't entirely sure how things stood, as I think they had switched off the digital scoreboard on the tee by that point. I was pretty nervous. I hit a decent tee shot, but the second shot to the green was probably the worst shot in the history of the tournament for the champion. I think I caught the ground about two inches behind the ball. It was so far out of the toe that it didn't even hit the grooves. I was quite lucky that it got over the hazard, to be honest. It was so bad it missed all the trouble, and luckily I followed it up with a nice up-and-down.
You've won so big tournaments before, but can you pinpoint anything in particular that has elevate your game still further?
It's hard to put my finger on what has made the difference really, as I'm not doing anything particularly different in terms of my preparation, my practice, my swing, or anything like that, but I think one of the biggest things for me this year is that I've been pain‑free after last year's wrist surgery. So that's been a huge thing for me, as it's been an issue for the last two or three years. Now that the wrist has been fixed, I've been able to train in the gym, which is something I've not done for this amount of time previously. I'm feeling fit and healthy and I'm generally very happy with how things have gone for me this season – apart from missing the cut in all three of this year's Majors.
You don't strike me as a gym bunny…
No, I'm not, but I'm quite a self-conscious person, and for the last couple of years I haven't really like how I looked. I'm sponsored by a sports brand [adidas], and you want to look good in that kind of clothing, and I got to the stage where I definitely didn't. So I started in the gym just for my own benefit to make myself feel good, and I've enjoyed that process, really. I haven't lost a huge amount of weight, but I feel in better shape physically and feel much stronger.
Do you think you play better if you feel better?
Definitely. I feel if you're in a good place, like for me, if I'm obviously happier, I'm going to be calmer on the golf course and that's obviously going to help me, as well.
Talking of adidas, you provoked quite a debate with your choice of outerwear during the BMW. Did the interest around the hoodies you wore take you by surprise?
Yes and no. A hoodie is not something you see every day on the golf course, but adidas have always tried to shake things up a bit when it comes to golf fashion. If it's warm, comfortable – which it was – and I can swing without restrictions, then I'll wear it.
I offered to give away ten of them to my Twitter followers and had literally hundreds of responses within a few hours, so they've obviously proved popular with the public – or least sections of it. I know some clubs will have a problem with their members wearing hoodies, but times change and so does fashion.
With the pandemic it's obviously been a stop-start season, with tournaments cancelled and postponed, and the schedules all over the place. How did you negotiate the situation?
When the Players Championship was suspended back in March, my fiancée, Emily, and I decided to stay in the States. We rented a house in Florida, in Lake Nona, and spent the best part of three months just hanging around there.
It was a nice spot to be. We obviously didn't know how long things were going to be up in the air. Although when we went into a bit of a lockdown in Florida, it was nothing like as tough as it was in the UK, and we felt that only if it got a lot worse in the States we would look at going home.
As far as golf was concerned, they kept the practice facilities open at Lake Nona, so if you wanted to practice, you could. Back in the UK, you couldn't even leave the house, and no golf courses were open, so I wouldn't have been able to practice anywhere. Although I didn't actually practice a whole lot at Lake Nona, it made more sense to stay in the US, especially when the PGA Tour schedule came back in June, and with the quarantine rules it just didn't make much sense to come back to the UK.
It was a tough decision for a lot of the European players to go and play in the States, especially for those with families. At the end of the day, everyone had to do what they felt was right for them.
How have you found not playing in front of fans?
It's been strange, and I'm looking forward to the galleries being able to come back, but we all know what's on the line, so I've no problems in getting motivated with or with without fans watching. The adrenalin might not be pumping quite so hard, but I'm always out there trying my hardest to win.
Your swing looks so simple it's often hard to wonder where things might go wrong. What are the main things you focus on when you're working on your swing?
I really haven't changed my swing since I was maybe 14. I've always worked with my dad, and we've always looked at kind of two key points of the swing, where it's like a quarter of the way or half-way back and then at the top of the backswing. So, it's always just a case of kind of keeping a check on those positions.
When things do go wrong, it normally tends to be when the club is too far outside. And then I've always had high hands, so at the top of my backswing, it would be like too steep, and that's where sort of issues will kind of arise from there.
My downswing is very consistent, so as long I can get it in the right positions I need to on the backswing, and stay in a good rhythm, I generally don't have to many problems. But I feel like the swing's in a good place.
How much of an impact has having an experienced caddie like Mick Donaghy had on your performances this year?
Mick and I started working together at the British Masters last year. I've loved every tournament that we've been together. He's got so much experience. He's been on Tour for over 30 years. I think the win at Wentworth was his 24th win as a caddy, so he obviously seen a lot and he's worked for a lot of fantastic players. Mick brings calmness, which is a good thing for me, and we get on really well. We have a really good relationship, and I think you definitely need that when you spend as much time together as players and caddies do. He's always pretty good at making me laugh, which I definitely need at times.
You're known for being hard on yourself. Are you getting less critical of yourself with the recent success, or is that what gets you up?
Yes, I can be hard on myself, but that's the way I've always been. I am getting better at putting bad shots behind me, and trying to look forward and be more positive, but it's not something you can change overnight. It's a work in progress.
You don't always look happy, shall we say, when you're out on the golf course, but you certainly seemed to be enjoying yourself at Wentworth. When you think back on that week, is that feeling hard to replicate? 
Yeah, I think so. We're all human, and our emotions change from day‑to‑day. When I think back to Wentworth, the two weeks that I had at home prior to that was massive. Before the BMW, I had been away for the best part of eight months, so to actually be in my own house, my own bed again, was great, and I just felt happy.
It was, I'd say, similar to the feeling I had at Bay Hill. I was comfortable with my surroundings. At Bay Hill we stayed in the house that we've rented at Lake Nona for the last couple of years, and everything felt familiar and comfortable. That tends to be when I play my best golf.
There have been other weeks where I've been a bit more highly strung, and it's often been related to being in new venue, feeling jet-lagged, tired or just a bit off colour.
What was the first thing you had after coming home?
The first thing I did when I got home was have a bacon sandwich and cup of tea, then actually we had a curry at night. Yeah, there's no place like home, so it was just good to be back.
How does it feel to be inside the top 10 in the world rankings, and what's next on the career goals list?
It's long been a career goal for me to break inside the top-10 in the world, so to win at Wentworth and achieve that in the same week was very special. Staying there is another thing, but it's pleasing to kind of get that box ticked.  I've been fortunate to win a few times on the European Tour, including a Rolex Series event, and now on the PGA Tour, so I feel the next step for me would be to win a WGC event and then a major. That would be very special. It is very hard to win tournaments. You have to go out each week, try your best, and some weeks it works out better than others.
You talked about the disappointment of not performing as well as you'd like to in the Majors this season. What went wrong?
I've not got much of a track record at the Masters, so while I came into the tournament with plenty of confidence, my past efforts at Augusta didn't necessarily point to me having a great week.
I've not putted great there, in fact, pretty horribly, to be honest, so that's been disappointing, as I'm normally a pretty decent putter. And my short game probably hasn't always been isn't as sharp as it needs to be to score well around there. Augusta is all about knowing when to attack and when to defend, and sometimes I've not always got that right, but every time you come back there, you learn a little bit more.
WHAT'S IN TYRRELL'S BAG?
Driver: Ping G425 (8.5°)
Fairway Woods: Ping G425 3-wood (15°), Ping G425 7-wood (20.5°)
Utility: Ping G410 Crossover (20.5°)
Irons: Ping i210 (4-PW)
Wedges: Ping Glide Forged 3.0 (50°), Titleist Vokey SM8 (54°, 60°)
Putter: Ping Vault Oslo
Ball: Titleist Pro V1x
Shoes/Apparel: Adidas