Get that Rhythm…. Golf Cart Sound System Ideas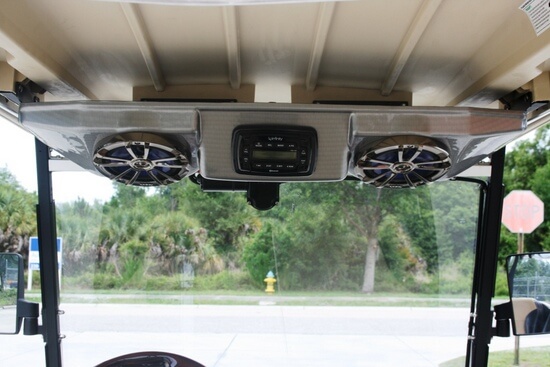 Golf cart sound systems make golfing more fun. They are a great way to enjoy music and catch the news out on the course. A typical golf cart audio system includes a radio system or a stereo, two speakers, wiring harnesses and a console that holds all of these together. The console is usually located in the dash area near the steering wheel with the radio roughly in the center and the speakers on either side. There are also overhead radio consoles and all-in-one sound bars that mount to the roof of the cart.
Let us try and understand how a golf cart system works and how it can be upgraded. We will also discuss innovative ideas that can help you get the best out of your system.
Let's begin…
A golf cart comes pre-fitted with a stock dash. If the dash has provisions for installing a stereo system, you can go ahead and do that. Here you need to make sure that the radio system you purchase fits the cut-outs in the dash.
Building a golf cart sound system with a factory-installed dash
If you are about to build a sound system using the factory dash, we would recommend you go for a complete golf cart bundle instead of buying each audio part separately (unless you are a sound expert and you know what you are doing). A golf cart bundle would have all the things necessary to set up your sound system. A basic golf cart radio bundle consists of a receiver, two 6 ½ inch speakers, panel-mount USB port, wiring kit, wiring harness connectors, remote control and antenna.
If your dash has gauge-style openings, pick a radio that supports gauge-style openings. If it has single-DIN style cut-outs, pick a receiver that fits single-DIN style holes.
Keeping the stock dash is economical as it lets you splurge on the sound system. If budget is a constraint, it might be a good idea to work with the factory dash.
Building a golf cart sound system with a custom dash
If the sound system you want to buy does not fit the stock dash, your only option then is to get a custom dash kit that will house your system. These kits are readymade and they are precision-molded to fit various golf cart models. So, if you own an EZ-GO or a Yamaha golf cart, you might want to look for a dash kit that's tailor-made for your golf cart.
Now you have two routes before you. You can either choose to buy a console that comes pre-loaded with the stereo and the speakers, or you can buy an unloaded dash kit and load it with a radio system of your choice. The first offers a hassle-free end-to-end audio solution and you just have to bring the kit home and pop it in your cart and you are all set. The second offers more flexibility because you can choose what brand you want for your stereo and speakers (BOSS Audio, Rockford Fosgate, etc.), and also the design and finish of the console (wood grain, carbon fiber, black paintable, turned titanium, etc.).
Most custom dash kits have easy bolt-in installation. You can mount them yourself with simple hand tools. The speakers can be mounted to the pods in the console or under the seat. Underseat mounting might require professional assistance and we suggest you talk to your dealer. If you want to expand the sound stage, you can get marine tower speakers with clamp-style mounts and install them on the poles of the golf cart.
It is always advisable to choose a console that has extra space for additional gear. For instance, in the future, if you want to add extra lighting or a phone mount, your deck should have enough space for making cut-outs for the new parts. Also, choose a console that has bigger waterproof storage compartments.
Once you have the basic parts installed, you can add more accessories to customize the sound. For better bass, you can throw in a mono amp and a larger subwoofer. You can also improve the functionality of the dash by adding extra cup holders, storage trays and an under-dash cubby for more gear.
This brings us to the end of our discussion on dash-mounted radio systems. Now let us move to roof and roll cage mounted systems.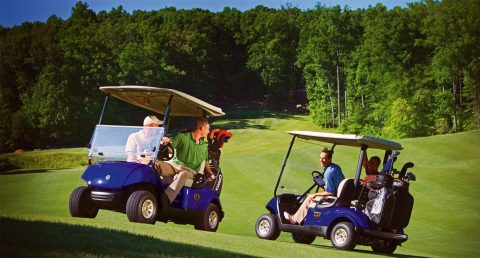 Roof-mount radio console
This type of radio console provides spacious overhead audio and saves a lot of space around the steering wheel. It installs above your head on the roof of the golf cart or the overhead roll bar. It has all the same parts as a dash console including a water-tight storage. The only difference is its location and the absence of features like cup holders. Roof-mount radio consoles normally have bright LED lighting that flash in tune with the music. If lights are a big factor, a roof stereo would be the best choice.
Golf cart soundbar
A golf cart soundbar is a marine-rated soundbar. It combines the receiver, the speakers and the amps in a single unit. Naturally, it is compact and occupies very less space. But the downside is that it does not have any storage compartments and space for installing additional gear in the future. It is just a sound system; it doesn't have too many non-audio functional features. But it is upgradable and extra devices like a subwoofer or a light bar can be added. It is also most likely to be accompanied by a remote control.
A close cousin of the sound bar is the audio tube. It can be a good substitute for the soundbar. Audio tubes are more rugged and have bigger woofers. Many also have a small storage cabinet for keeping keys and wallets. But the ideal place for an audio tube would be near the wheel with the speakers facing the rider.