Ford hits top gear to win PGA Professional Championship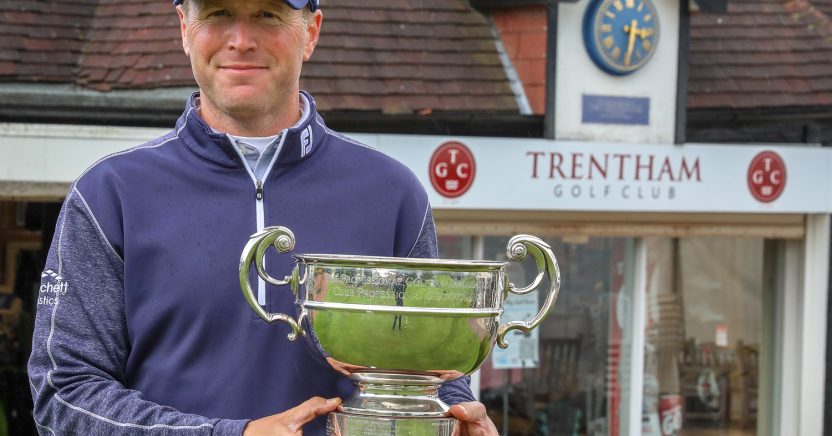 While Tyrrell Hatton was blitzing the field at the BMW PGA Championship at Wentworth, Kent's Matt Ford was busy banking some equally useful money for himself when winning the PGA Professional's equivalent at Trentham Golf Club.
Ford's 72-hole total of 19 under par matched that of Hatton's score too, although the Bearsted man's margin of victory at the PGA Professional Championship was seven shots, and not the four shots that Hatton achieved.
Having led the tournament after rounds one and two, 42-year-old Ford was left tied for the lead with Paul Hendriksen after round three after a couple of costly late bogeys, and victory was for from certain.
Ireland's Simon Thornton was also in close contention, but any hopes his rivals harboured that Ford would suffer a hangover from his discouraging finish were quickly dashed. The back-to-back bogeys of the day before were immediately erased by back-to-back birdies and the PGA Professional from Kent who represents the CK Group was on his way.
Four more birdies followed in a six-under-par round of 66, the last coming at the par-five 18th and typifying his bogey-free performance. Having landed his approach just short of the green, Ford chipped to within three feet and holed out to claim the £10,000 first prize and add his name to a distinguished list of winners.
Reflecting on his round, he said: "I had a good start and the guys around me didn't start as well as they probably hoped.  I knew they were going to be there or thereabouts so I tried to keep my foot on the gas and keep going. I probably didn't hit the ball as well today as I did over the first three days, but I holed some crucial putts after missing a few yesterday.  It was key I made a few today, especially on the front nine. That kept my round going nicely."
It also maintained a purple patch of form that Ford has enjoyed for much of a season blighted by the coronavirus pandemic. He went into this tournament having just missed out on victory in the Italian Challenge Open Eneos Motor Oil when he was beaten in a play-off by Hurly Long.
There were no such dramas, by contrast, in the Westcoast Pro-Am in mid-August when Ford earned £13,000 for winning what is the most lucrative pro-am in the UK for professionals. Ford also won the PGA Surrey Open Championship, but the legacy of these successes has been twofold – fatiguing, but financially rewarding.
"It's been a good couple of weeks," he added. "I'm a bit tired after the last two weeks to be honest – it's been pretty draining. I've done quite a lot of travelling and played a lot of golf. There's also been a lot of pressure and that takes its toll as well. It's been a very strange year. Financially I wasn't in a very good place in the spring and during lockdown. A few months down the line and I've turned things around, played some good golf and all of a sudden the bank balance is looking better. I've earned some good money over the last few months and that makes a big difference to me and my family."
In financial terms, two members of GB & Ireland's 2019 PGA Cup team, Matt Cort and Jordan Godwin, who posted rounds of 67 and 68 respectively, received a boost. They each earned £5,460 as result of sharing the runner's up berth while Thornton, who finished on 11-under for the tournament to claim fourth place, picked up £3,450.
Full scores are accessible here