EXCLUSIVE INTERVIEW: Annabel Dimmock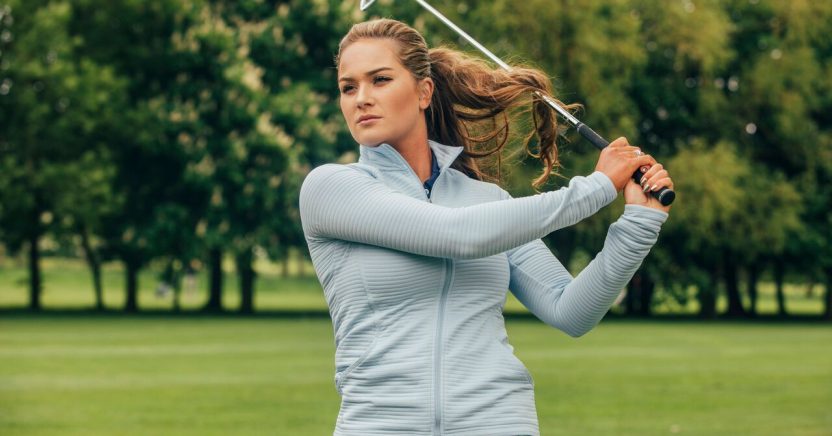 Golf News Editor Nick Bayly catches up with Ladies European Tour player Annabel Dimmock, who is about to embark on her sixth season on the professional circuit. In a wide and varied conversation, the 24-year-old from Sunningdale talks about life on tour and in lockdown, the growth of the women's game, and her personal ambitions
The pandemic has put a spanner in the works for a lot of people, but what has the last 10 months or so been like for you?
The last year has obviously been very hard for a lot people, so I'm not going to sit here and pretend that not being able to play golf for a few months has been a huge hardship, but it's not been easy, especially for those just starting out in the professional game.
From purely a performance point of view, it's been difficult to get any momentum going with the stop-start nature to the season and the lack of events. Our competitive schedule had just started out in Australia when the pandemic hit back in early March last year, so we came back from that and had no tournaments until June, when the Rose Ladies Series was launched, and then events began to trickle back in the autumn and then we ended the season quite strongly.
The Rose Series over the summer was a real bonus for UK-based tour players. How pleased were you that those tournaments went ahead?
It really was a godsend for all of us British players on the Ladies European Tour, and I don't know how I would have coped without those events. After months with very little to do, it gave me a renewed purpose, firstly to get up in the morning to practice, and then to actually play in them was amazing.
It worked out really well for me, based in Sunningdale, as many of the courses were pretty near to where I live, so I didn't have to travel too far and I knew most of the venues.
It was great to play at some fantastic courses, including Royal St Georges, as we don't get to play many links courses on the LET, even the Women's British Open isn't always on links, so that was a fantastic experience and kind of took me back to my amateur days when we played more links courses.
How did you find playing and staying in tournament bubbles?
Travelling abroad, getting tested all the time, and playing in tournament bubbles is a very odd experience, and not everyone is comfortable in that situation. I certainly found it tough. At some events you weren't allowed to leave your hotel room between rounds, and had to have meals in your room, so it wasn't ideal, although we were obviously pleased to be playing again. I really missed being able to socialise with my friends on tour and sometimes I felt a bit like a caged animal!
It's obviously quite early to tell how 2021 will pan out, but the LET schedule released last month looks quite strong, especially towards the latter part of the season.
Yes, I'm pretty pleased with how it looks, although it's hard to know how things will pan out. It's going to be a slow start, but things start to get going towards the end of February, early March, and then it really picks up towards the end of the year – by which time the pandemic will hopefully be under control and the vaccines will have been rolled out, although nothing is certain.
It was such as shame that so much of the LET's 2020 season was written off, as at the beginning of the year the schedule was looking strong for the first time in many years. The LET has gone through its well-publicised struggles, but hopefully it can get back on track in 2021.
I was hoping to go somewhere warm in January and February to tune up for the new season, but the third lockdown has put paid to that, so it's back to practicing at home and trying to keep fit and see how the land lies.
What is your practice set up at home?
In the first lockdown in March and April I was staying at a friend's house in a bubble, and he had an artificial putting green and a proper practice net in the garden, so I was able to do a fair amount of golf-specific work.
Ironically, with all that time on my hands I was able to do some really good work on my swing and I came out of it feeling in a good place with my game. I was able to groove in some of the swing changes that I might not have had the chance to do if I had been competing, and it showed up in my results in the Rose Series. I also read a lot of stuff about the mental part of the game, and that is something I wouldn't have had much time to think about during a normal season.
I think the lockdown gave a lot of players the opportunity to work on some of the things that they might have been putting off, so it was pretty competitive when tournament golf started back again.
As soon as we were allowed back to golf courses again in May, I was straight back to the range at Wentworth, where I'm attached.
How did you first get into golf?
My dad played golf, not to any great standard, but he took me to the range with my sister when I was a kid and I kind of enjoyed it from the start. I competed in the HSBC Wee Wonders and US Kids Golf competitions, and then, when I was 14, I was awarded a place on the Wentworth Scholarship Programme. The club has been very supportive throughout my career. I had access to all the superb practice facilities and obviously the three great courses there, so I was, and continue to be, very lucky to use them.
I didn't much enjoy studying at school – the only subject I was ever on time for was PE – so I left school at 16 and played golf full-time for year while I weighed up my options of either going to college in America, as a lot of English girls do, or whether to turn professional and see how I got on in the UK. I decided not to go to America and turned pro in 2015 and don't regret that decision for a minute.
You won your first LET event at the Jabra Ladies Open in 2019. I'm guessing the next goal is to win again?
Most definitely, it's been a goal ever since I turned pro, and although I've had some ups and downs, and a few near misses, I knew that I would get over the line eventually. It would obviously be great to win again, but I really want to improve my performances in the Majors too. Winning is great, don't get me wrong, but professional golf is about turning in consistent performances, and playing well in the big events against the world's best players.
A lot of top European players have gone over to the States. Is that your ultimate goal?
Yes, it is. I actually won a card for the Symetra Tour – which is one below the LPGA Tour – but I decided that I wouldn't go over to America unless I had my full LPGA Tour card. I was due to go over for qualifying school at the end of last season, but it got cancelled because of the pandemic. Everyone has kept their cards from 2020, so there is no promotion or relegation, but I'll definitely give it another go this year.
Can you talk through the current equipment set up in your bag?
I'm with TaylorMade through the bag, so having their performance centre at Wentworth has been great if I need to make any changes to my set ups. I've just changed my irons to the P770s – they are the most gorgeous irons I've ever seen. I've got the SIM Max driver in the bag, which carries about 240-250 yards – that added about seven yards to my driving distance over the M6 driver, which doesn't sound much, but has made a big difference. I'm one of the longer hitters on tour, so as long as I'm hitting it straight I can be more aggressive when it comes tackling pins.
You're also sponsored by adidas, which is always looking to push the boundaries when it comes to performance golf wear. What do you feel most comfortable playing in?
I have such a good relationship with adidas, they're definitely one of the more forward-thinking brands. They really understand my style and listen to what I like. I always like everything they make, it's so sporty and modern and just my kind of thing. I love that they're eco-friendly and making clothes out of recycled plastics as well.
Tyrrell Hatton, who is also with adidas, caused a bit of stir when he wore an adidas hoodie at the PGA Championship at Wentworth, what did you think of the reaction to that?
I thought he looked really cool. It obviously didn't affect his swing, and it looked comfortable, so why not? It won't go down well at every club, but people need to move with the times.
I turn up at the range and the golf course in so many different things. They're used to me now at Wentworth, so they're not shocked. The thing is, we play golf to have fun and I think sometimes people forget that. Of course, you shouldn't turn up looking scruffy, but there should be no issue with people being fashionable.
We are starting to see more and more golfers who dress really well. Danielle Kang is so cool and she wears adidas like I do. Michelle Wie wears such edgy outfits and stuff that some people might be afraid to wear – like all the high-top shoes and matching socks. It stands out and she really makes a statement.
What do you think golf needs to do to get more women playing the game?
Golf needs to change its image, be less stuffy and more welcoming. It's got so much going for it as a sport, in that it's really good for physical and mental health, as has been shown during the pandemic.
Golf is also a brilliant way to socialise with your friends, so the industry needs to get this message out there and get more people trying the game – I think concepts such as TopGolf and Putt Shack are great.
When I was younger I don't think I told many people I played golf because it just wasn't deemed to be a cool thing to do. But now I'm older I'm really proud of being a golfer. I love being able to walk into a room and tell people what I do. Some people can be really taken aback by it when they first meet me. They're like "you play golf?" I like it and I know I'm probably not the stereotypical image of a professional golfer.
Golf clubs can be a little intimidating to walk into, and I feel they could be more of a part of the local community, for somewhere that people might want to go and meet for coffee or do a yoga class. More clubs could offer family memberships, like Wentworth do.
There's been a growth in mixed events on tour, have you played in any and, if so, what was the experience like?
Yes, I played in The Vic Open last year, a joint event between the European Tour and the Ladies European Tour, which was great. I was due to play in The Mixed Sweden Open, which was going to be hosted by Annika Sorenstam and Henrik Stenson, but that unfortunately got cancelled due to the pandemic. I really enjoy teeing it up against the men, it's good fun and they are usually surprised how far women hit the ball.
Overall, I am excited for women's professional golf and how it is growing, I am looking forward to seeing if we can get to a point where there is equal pay for men and women, like there is in tennis. Even if we could get to a place where there are an equal number of tournaments would be a start.
You're a brand ambassador for the Huawei Watch GT 2 Pro smartwatch. How has it helped with your fitness and overall health?
Using a good smartwatch, like the GT 2 Pro, can really help, especially when you're following a fitness programme, as it can track your progress and time you've spent practicing or working out. I don't use it when I playing golf, but I wear it all the time when I'm training on the range or in the gym, and for everyday use. It has hundreds of different workout modes, so whatever you're doing it can track it. It also measures your heart rate and blood oxygen saturation levels, and the built-in accelerometer can record your swing speeds and ratios from backswing to following though. It's also great for working out your recovery rates after exercise, which helps measure your fitness levels, and it's excellent for sleep monitoring too. It also looks really smart – more like a normal watch – and it's got a really long battery life – so I'm really happy with it.
For more details about the Huawei Watch GT 2 Pro, which has an RRP of £249, click here.